Our servers require your donations!
| | |
| --- | --- |
| April´s Goal: | $58.00 |
| Due Date: | Apr 30 |
| Amount in: | $0.00 |
| Total Still Needed: | $58.00 |
---

How to Join

---

Forums
About Us
Tactics
Useful Links
Armoury

---

Members Only

---
Welcome Anonymous
---
Registered Users:
---
Online Now:
>
Welcome to the home of the 22nd [SAS] Elite Virtual Regiment, which is based on the British Army's 22nd SAS Regiment. Just as the British SAS represent the spearhead of modern-day special operations teams, our virtual regiment is at the forefront of elite tactical gaming teams. Our [SAS] is a group of serious, tactical-minded gamers who enjoy turning off from the real world and playing tactical games in a virtual military environment. The experience we provide to our members includes the use of realistic weaponry, tactics, training and ranks. Of course, the main goals of the team are for our members to have good laugh, enjoy the comraderie, improve our skills and play great games!
If you would like to be part of something special, and if you believe you have the potential to perform at our level, then please take a moment to submit an application form and spend some time with us online! We cover a variety of games, but we are centred around Rainbow Six: Raven Shield and SWAT4: The Stetchkov Syndicate. We have three operational game servers. For Raven Shield, we have a public Proving Ground 2 and a private Training Ground 1 that runs the Athena Sword expansion for Raven Shield. For SWAT4:TSS, we have a public Proving Ground 4. Join one of our Proving Ground servers to experience our unique style of gameplay. If you are of the calibre, you may be given access to the Training Ground servers and TeamSpeak3 voice channel.
Whether you simply head to the forums to make an introductory posting, or you jump right into the action on a Proving Ground or Training Ground, we look forward to meeting you! You are invited to help us continue to shape our vision!
Are you ready for the challenge?
>ArmaII Servers
>[SAS] 22nd Elite Virtual Regiment Server Rules
Recruiting by other clans, on SAS servers is not permitted. Anyone suspected of doing so will face an immediate Global ban, and their IP and account will be banned from this website.



Respect and be polite to all players. Do not use foul language



There is no excuse for injuring or killing team mates. Know your weapon, control it, and never aim at a team mate.



Do not rush people to ready up.



Do not spam the tactical map, V-Comms, or the chat channel, Go-Code "Zulu" is solely for tactical purposes, not for fun.



Do not start vote kicks when [SAS] Officers or Soldiers are present, The [SAS] are perfectly capable of administrating their own servers.



When no [SAS] Members are present, report any mis-conduct through our website.



If going 'away' for a long time, please leave the server or enter spectator mode, we reserve the right to kick long term AFK-players.



When an Element has a plan and mission -- do not interfere with it. We encourage all visitors to participate in our team efforts. Do not hesitate to ask to join an Element. For the benefit of yourself and the team: Read our Tactics section to learn more about team work.



Obey orders from any [SAS] Member. If asked to stay out of the way, please do so.
We reserve the right to deal with anyone that has developed a reputation of misconduct on our servers. Using any method or means that, the [SAS] 22 nd EVR finds appropriate
>

We have banned 132 attempts.Be Warned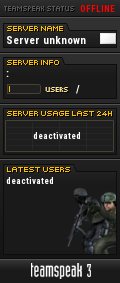 | M | T | W | T | F | S | S |
| --- | --- | --- | --- | --- | --- | --- |
| | 1 | 2 | 3 | 4 | 5 | 6 |
| 7 | 8 | 9 | 10 | 11 | 12 | 13 |
| 14 | 15 | 16 | 17 | 18 | 19 | 20 |
| 21 | 22 | 23 | 24 | 25 | 26 | 27 |
| 28 | 29 | 30 | | | | |